Everyone who subscribes to ADDISS is kept informed about all the latest events and news on ADHD. Subscribers receive:
ADHD News - a quarterly

newsletter which rounds up news and views on ADHD

Discounted and sometimes free places at events.

Details of forthcoming conferences and meetings related to ADHD

Updates to the ADDISS Bookstore, keeping you up-to-date with the latest books and resources
Every subscription helps to support the work of ADDISS, providing information and support each day to people with ADHD and their families.

Subscribing to ADDISS
A year's subscription costs £65 for organisations £45.00 for professionals and £30.00 for parents.

You can subscribe to ADDISS by the following methods: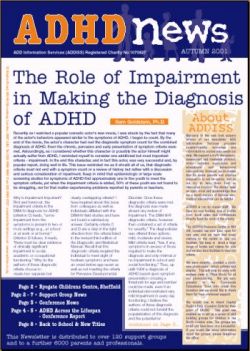 ADHD News this is the very first edition.
· What are the experiences of adults with ADHD?
· How do adolescents with ADHD see their needs as they move beyond Paediatric and CAMH services?
· Very bright and gifted people with ADHD
· ADHD and Autism a personal story
· Practical strategies for managing your ADHD
· Conference Details
· The New DSM Has Arrived
· Andrea Bilbow OBE
· ADHD and Addiction in Teens
· ADHD and Substance Abuse
· News Roundup
· ADHD and the Law
· Reading YOS
· Me, Myself, and Adult ADHD
· OCEAN Study
· News Roundup
· ADHD From the Heart – Ashley McKenzie
· Conference Highlights
· Cognitive Behavioural Therapy for adult ADHD
· ADDISS Conference – a parents's view and experience of attending
· News Roundup
· Adolescent Girls with ADHD
· Smoking in pregnancy may not cause ADHD
· A special kind of freedom – Growing up with ADHD
· News from Nottingham and Swansea Support Groups
· What Should I Expect at a follow up appointment with my child's doctor
· ADHD and Family: Converting chaos to calm through Mindfulness
· ADHD and Mood Changes
· Challenging Disability Discrimination
· The Chain of Success: Awareness + Skills + Desire =Success by Dr Ari Tuckman
· Equality Act 2010- What does it mean for ADHD?
· Support in Harrow
· ADHD and the need for adequate Guardians
· What's new in ADHD Research
· Practical Responses to Adult ADHD
· ADHD and Reading Study- Thomas Brown PhD
· 1 2 3 Magic- a bomb disposal course for children
· The DIagnosis of Adult ADHD as a specific learning difficulty - David Grant
· this edition has now been removed for privacy purposes
· Transition from Primary to Secondary School
· The Green Paper: Support and Aspiration
· Transition from Primary to Secondary School
· ADHD, Addiction and the Cyber World
· Implementing the Autism Act